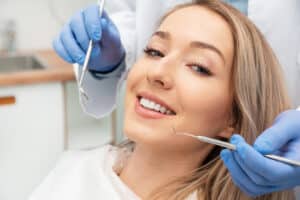 Are you looking for a new dentist? Hill Avenue Dental is the perfect place for your general dentistry needs. We offer high-quality services to diagnose, treat, and manage your overall health care needs. We are proud to be your primary care dental provider.
What is General Dentistry, and Why Do I Need It?
General dentistry is the branch of dentistry that focuses on the overall health of your mouth, teeth, and gums. It is important to choose a general dentist that you can trust. We provide continuing and preventative dental health care to patients around the Spirit Lake area. We can treat people of all ages and make sure they're comfortable throughout the procedure. Hill Avenue Dental's team is highly trained and dedicated to keeping our patients' teeth and gums healthy. We can assist our patients live a full life by focusing on preventative care. After all, even the most basic of daily activities might be difficult to enjoy if you have a severe tooth infection.
Many individuals are unaware of the services provided by a general dentist. While the term "general" is frequently used to characterize people who just provide the bare minimum, this cannot be true about our dental practice. At Hill Avenue Dental, we offer a comprehensive range of services to patients in the Spirit Lake area. We begin with education, oral cleanings, and dental exams to provide preventative care. We work hard to keep our patients' teeth and gums in good shape.
The General Dentistry Services We Provide In Spirit Lake, IA
At Hill Avenue Dental, we offer a wide range of general dentistry services to meet all of your needs. Some of our services include routine cleanings, x-rays, fillings, crowns and bridges, root canals, and more. We also offer various specialized services, such as cosmetic dentistry, orthodontics, and oral surgery.
What to Expect at Your First Appointment
At your first appointment, we will conduct a thorough examination of your mouth, teeth, and gums. We will also take x-rays as needed. We will then develop a personalized treatment plan based on your individual needs.
Common Dental Problems and How They Can Be Treated
There are many common dental problems that we can treat, such as:
Fillings are a common treatment for cavities. We can carefully remove the decayed portion of the tooth and fill it in with a dental filling material using specialized instruments and techniques.
Gum disease, also known as periodontal disease, is an infection of the gums. We can therapeutically treat gum disease with a deep cleaning, medication, and/or surgery, leaving you with excellent dental and overall health.
We can treat internal tooth infections, maximizing your comfort and making the process as fast as possible so you can be on a quick road to recovery.
The Importance of Oral Health
Maintaining good oral health is essential for your overall well-being and quality of life. It affects your appearance and self-confidence, but it can also impact your overall health. Poor oral health has been linked to various health problems, such as heart disease, stroke, and diabetes.
A Comfortable Office Environment
Our office is designed for your comfort so you can relax and feel at ease during your visit. Our experienced and friendly staff is committed to providing you with the highest level of care and service.
The Highest-Quality General Dentistry Provider in Spirit Lake, Iowa
You can trust us to provide you with the best possible dental care. You deserve to have a beautiful smile that makes you feel confident. We can help you achieve all your dental goals. Come see us, and let us show you what we can do.
Schedule an appointment today on our website!