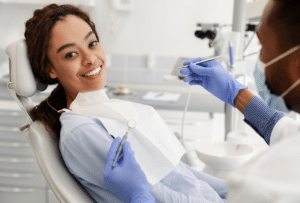 At Hill Avenue Dental, it is not only our mission to help all of our patients maintain a healthy and strong smile, but it is also just as important to us to take care of problems when they arise. When finding out there is decay in your tooth, we need to take action right away to prevent the problem from worsening. Our restorative dentistry treatments can restore the health and function of your smile, while also improving the overall appearance. 
Treatments We Offer
We offer many restorative dentistry treatments in Spirit Lake in our office for whatever you need including:
Fillings: In the instance that you have a cavity, the dentist will remove the decayed part of your tooth. Once the cavity is removed entirely, it will be filled with a tooth-colored composite material, hardened, and shaped down-to match your original tooth. 
Crowns: A crown is a restoration that is used to improve the strength of a tooth. Crowns are bonded to your teeth and can be made out of different materials. Crowns are typically indicated when you have a large filling, a broken tooth or root canal treatment.
Dental Bridges: A bridge is a fixed restoration that is used to replace one or more missing teeth. Like crowns, a bridge is bonded into place and can be made of different materials.
Why Restorative Dentistry?
Restoring your teeth is essential for your oral health, and to help improve your quality of life. Over time, any gaps in your smile can cause your teeth to shift and decay. Restorative treatments are the best way to prevent any future problems or pain. If you have any questions about our restorative dentistry options in Spirit Lake, please contact us at Hill Avenue Dental. Our team is ready to help you get your perfect smile back!