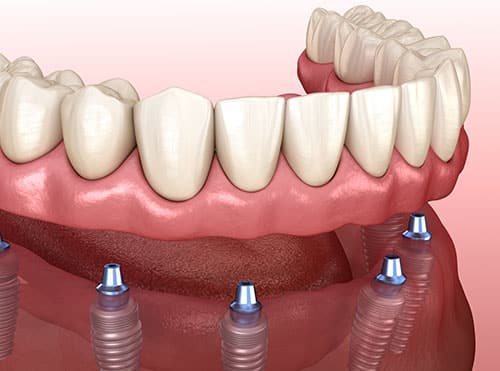 If you are missing most of your teeth, the best option for you to have a full smile again would be to receive dentures. Hill Avenue Dental offers and suggests implant-supported dentures to patients that are in this situation.
Traditional Dentures vs. Implant-Supported
Although the main part of the dentures, which is the teeth, is generally the same in both traditional dentures and implant-supported dentures, the way that they are worn is completely different.
Traditional
Traditional dentures include artificial custom-made gums and teeth made to give you the functions of your teeth back. With traditional dentures, generally, there is some shifting while doing daily activities such as eating. In some cases, denture adhesive is given to keep them in place.
Since it is impossible to completely prevent shifting of the denture, in some cases, patients can suffer from painful gum sores.
Implant-Supported
With implant-supported dentures, the goal of giving you back daily functions is the same as the traditional dentures. The only difference between the two is what is holding the dentures in place.
To offer more support, four dental implants are surgically placed into the jaw bone on both the upper and lower arches. Dentures are then made to fasten securely into the implants which makes it so that there is no shifting when wearing dentures.
Benefits of Implant-Supported Dentures
Because dentures are secured into place, it prevents annoying shifting which ultimately means no gum sores will develop
Implants allow your jaw bone to be stimulated while chewing. Stimulation helps the bone and the soft tissues from deteriorating
Technology Used
Digital Radiographs allow the dentist to zoom in and take a closer and clearer look at the location where the implants will be placed. Radiographs are taken intraoral or extraoral, then are immediately able to be viewed on a computer.
Intraoral Cameras are used to take precise photos of the patient's teeth to then be seen by patients and dentists. The camera itself is compared to the size of a pen and is minimally invasive.
3D/Digital Impressions are the latest technology used in creating a precise impression of the entire mouth. Impressions will help the dentist in creating your perfect set of dentures!
Talk to the Professionals
Receiving a full set of dentures is a big deal and should be handled in the right way to be sure you are getting the best. If you have been thinking about dentures, please come in and talk to us at Hill Avenue Dental located in Spirit Lake, Iowa. We will walk you through the process and help you choose an option that is best for you.