Dental Bridges in Spirit Lake, Iowa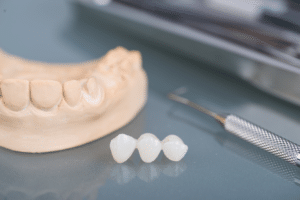 Replacing missing teeth can be a big decision, both financially and physically.  Implants are expensive, and removable partial dentures may be uncomfortable and difficult to adjust to.  Fortunately, there is another option.  Dental bridges replace missing teeth quickly and easily.  At Hill Avenue Dental, we offer dental bridges as one of our restorative services.
A dental bridge is a fixed prosthetic between two healthy teeth that replaces a missing tooth.  The bridge is fabricated at one of the dental labs we partner with and placed by Dr. Dotson or Dr. Hartzell.  This is done by anchoring the artificial tooth to the surrounding teeth using crowns.  Bridges can be made out of several different materials such as porcelain, gold, or other alloys.  There are practical and aesthetic benefits to a bridge: the ability to eat and speak properly, prevent mobility and shifting of surrounding teeth, maintain face shape, restore natural smile, and boost confidence and self-esteem.